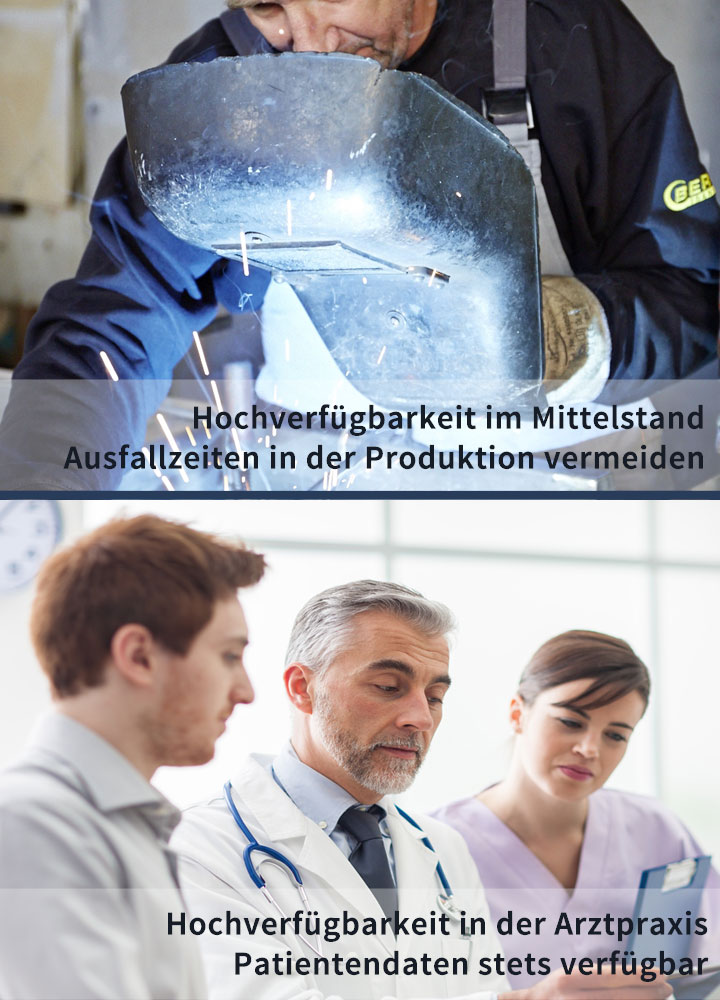 HA cluster for virtualized infrastructures
IT security for SMEs, doctors and freelancers
Medium-sized companies, doctors and freelancers are becoming more and more dependent on a functioning IT system. If there is a server failure, this can quickly lead to a complete standstill of the company. This means precious loss of time and money. Therefore, it is essential that all company-critical data and applications are designed to be highly available.
Watch our video to learn more about our all-in-one solution Collax V-Bien for medium-sized businesses.
Do you know our IT rescue service especially for doctors and medical care centres? Watch video now.
Simple. Sure. Cost-effective.
Thanks to the Collax V servers, high availability and clustering are no privilege of large companies. We have developed our solutions especially for the requirements of SMEs, doctors and freelancers. In addition to simple administration and installation, they above all offer security. And at a fair price.
Patented technology to protect against data loss
The patented Collax Fencing Device ensures data integrity at all times and in all operating states and thus protects against the consequences of split brain and stonith deathmatch. The Collax Fencing Expander ensures that the data is secure even in the event of severe external influences such as fire or vandalism.
Gentle reaction to failures
The Collax clusters were supplemented with the Collax Proactive HA function and the proven fencing technology. If fencing ensures high availability without endangering data integrity, especially in the case of spontaneous failures, Proactive HA deals with cases in which a hardware failure is already apparent in advance. If such an imminent hardware failure is detected, the affected VMs are removed from the danger zone as a precaution. For this purpose, a number of sensors are running which continuously monitor the hardware.
Virtualization
The virtualization server Collax V-Cube enables the operation of several high-performance servers on only one hardware. The optimal solution for ideal hardware utilization, maximum performance and small IT budgets.
Virtualization and High Availability
High availability and virtualization especially for SMEs with all known advantages: Minimization of total cost of ownership, maximum reliability for data and applications, simple operation.
The complete solution
Collax V-Bien is an all-round carefree package including hardware, software, support, backup and restore as well as the patented Collax Fencing Device. No additional costs for an external SAN.